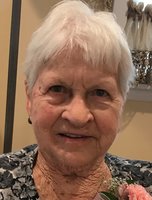 Georgina I. Carey
Wilton, NY
Georgina Carey (Allain) passed away peacefully at home on February 20, 2018, surrounded by her loving family.
Born in 1927 in Moncton, N.B. Canada. She was the daughter of Felix and Amanda Allain. Georgina was pre-deceased by her husband, Harold Carey, and her brothers Gerard, Lionel and Alonzo ("Jos"). Georgina leaves her brother Yvon, her sister Jeannine Bernard, two daughters, Linda Carey-Belch (George) and Patricia Carey-Cooper (Alan), two grandsons, Darrell Belch and Mark Cooper as well as many nieces and nephews.
Georgina and Harold met and were married in Moncton, N.B. and their love of their hometown found them back there on many occasions. In between, they made a home in numerous places including Massachusetts, Connecticut, Florida and finally Wilton, New York.
There are no services planned at this time and Georgina and her family wish that in lieu of flowers, friends and family consider making a donation to their local Hospice chapter.
Arrangements by Wilton Funeral Home, Wilton, NY
Condolences or to light a candle visit us at www.mevecfuneralhome.com.