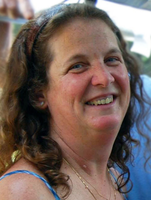 Joy Lynn Connor
Ballston Spa, NY
Joy Lynn Campbell Connor
On October 6, 2017 Joy Lynn (Campbell) Connor passed away after a brave battle with cancer. Joy was born to John R Campbell, Jr and Barbara (Norman) Campbell on October 4, 1959 in Fort Belvoir, Virginia. Raised in Milton, Vermont, Joy graduated from Milton High School in 1977 and immediately joined the Air Force where she met her husband Timothy Connor of Troy, NY. They were married on June 16, 1979 in Troy, NY. Joy spent her life enjoying a variety of activities but her favorites were going to the NASCAR races and quilting.
She was predeceased by her father John (Jack) Campbell, Jr.
Joy is survived by her husband Timothy Connor of Ballston Spa, her daughters Dawn (Jessie) Watson and Cristin Connor (Eric Morrett), her grandchildren Daryl, Annastasia, William they were the light of her life and brought eternal joy into Joy's life. Joy is also survived by her mother Barbara Campbell of Milton, Vermont, her sister Cheri Campbell and her children, and her sister Colleen (Ed) Catalano and their daughter. Joy is also survived by many aunts, uncles, cousins, brothers-in-law, sisters-in-law, nieces, nephews, friends, and others she considered family. Joy is also survived by her special friend who was there for her to the very end, Christine Gates.
A remembrance celebration will be held at a later date. Memorial donations in Joy's name can be made to Guardian House, an organization serving homeless veterans. Donations can be made online at www.vchcny.org or by mail to Veterans & Community Housing Coalition, 20 Prospect Street, Bldg 2, Suite 313, Ballston Spa, NY 12020.
To send a condolence or light a candle visit us at www.mevecfuneralhome.com.