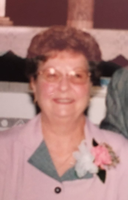 Marlene A. Brown
Ballston Spa, NY
Marlene A. Brown
74
Marlene died suddenly on Wednesday, April 4, 2018.
She was born in Ballston Spa. She was the daughter of the late Michael and Mary Vanyo.
Marlene had worked for Saratoga Industries (ESPEY) and the Saratoga County Board of Realtors.
She was a Legal Secretary for Brown & Brown Attorneys, Ballston Spa prior to retirement.
Marlene was a lifelong communicant of St. Mary's Church, Ballston Spa.
She was predeceased by her daughter, Jewel E. Anna Brown, her brother, Michael Vanyo and her husband, Kenneth Brown who died on July 17, 2010.
Survivors include her sons Timothy (Melanie) Brown and Michael (Sue) Brown, her grandchildren, Joshua (Olivia) Brown, Karra Brown, Stephanie Brown, Gabriel Brown, Jared Brown, her cousins, Noreen (Bob) McClements, Collette Vanyo, Peter Bargovic (Christine), Barbara (Chuck) Arnold, Thomas (Martha) Vanyo, Jimmy (Rita) Vanyo, David Bargovic, Jay (Sue) Bargovic, Nat (Janet) Bradley, Jay (Elaine) Bradley, her niece, Lisa (Steve) Fabian, her nephews Robert Brown, David Brown (Vicki) and her sister in law, Joan Brown.
Calling hours will be Sunday, April 8, 2018 from 5:00PM to 7:00PM at Mevec Funeral Home.
Services will be on Monday, April 9, 2018 at 8:30 am at Mevec Funeral Home, 224 Milton Avenue, Ballston Spa followed by a Mass of Christian Burial at 9:30 am at St. Mary's Church, 167 Milton Avenue, Ballston Spa.
Committal service will follow at St. Mary's Cemetery.
The family suggests memorial contributions in Marlene's name be made to St. Mary's Church, 167 Milton Avenue, Ballston Spa, NY 12020.
For directions or to light a candle visit us at www.mevecfuneralhome.com.