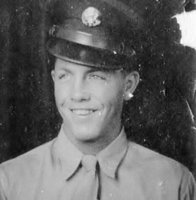 Wallace D. "Wally" Whalen
Ballston Spa, NY
Wallace "Wally" Whalen
92
Wally died on Saturday, September 23, 2017.
He was born on November 19, 1924. He was the son of the late John and Gertrude Drew Whalen.
He served in the Army during World War II. He received a Purple Heart and was awarded the N. Y. State Conspicuous Service Cross.
Wally joined V.F. W. Post 358 in 1945 and has been a member for 72 continuous years.
He was recently honored by V.F. W. Post 358 with a 70 year pin and a plaque for his distinguished service to the organization. Wally was a member of the Disabled American Veterans.
Wally was a self-employed carpenter for many years.
He enjoyed bending the rules of the game, especially playing ping pong, checkers and Uno.
Wally enjoyed riding his trike around town, fishing, and making cement lawn ornaments and urns.
He was predeceased by his wife Betty Whalen who died August 30, 2008, his son Charles Whalen, his grandson Alexander Ventrella, his brothers, James, John, Miles Whalen and his sister Rose Hitchcock.
Survivors include his children William (Cynthia) Whalen, Patricia (Dan) Bryant and Ronald (Cheryl) Whalen, Michele (Tom) Thomas and Jeanne Whalen, 16 grandchildren, 25 great grandchildren, 4 great great grandchildren, several nieces and nephews.
Services will be on Thursday, September 28, 2017 at 10:30 am at Mevec Funeral Home, 224 Milton Avenue, Ballston Spa.
Committal service with full military honors will follow at Gerald B.H. Solomon-Saratoga National Cemetery.
Calling hours will be Wednesday, September 27 from 6:00PM to 8:00PM, V.F.W. Post 358 will have a service following the calling hours at 8:00 PM at Mevec Funeral Home.
Family suggests memorial contributions in Wally's name be made to Disabled American Veterans at https://www.dav.org/