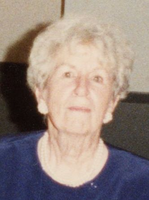 Eileen Danison
Ballston Spa, NY
Eileen Danison
93
Eileen died peacefully at Wesley Health Care Center on Thursday, July 27, 2017.
Eileen worked for many years as a substitute teacher at Ballston Spa Central Schools, Ballston Spa. She was an independent business woman, running her own fabric shop The Hook & Eye, and she was a Real Estate Agent for many years. Eileen was very active in the Village of Ballston Spa business community. She was an active member of St. Mary's Church, attended Empire State College. She shared many adventures with her friends. Eileen did lots of volunteer work for many different organizations. She loved spending time with her grandchildren.
She was predeceased by her husband Robert C. Danison, Sr. who died on January 11, 1987, her sons, Steven Danison and Peter Danison, her granddaughter, Jennifer Danison.
Survivors include her daughter Margaret Danison, her sons Joseph Danison Timothy Danison, Robert C. Danison, Jr, Tracy Danison, John Danison, Bartholomew Danison Thomas (Tobin) Danison, Ned Danison, her grandchildren Zac Danison, Elizabeth Kita, Ryan Danison, Vanessa Danison, Steve Danison, Linda Danison, Alex Bianca, Aubin Danison, John Danison, Hope Danison, Sophia Danison, George Danison, Timothy McQuade, 6 Great Grandchildren, many nieces and nephews.
Services will be on Tuesday, August 1, 2017 at 9:00 am at Mevec Funeral Home, 224 Milton Avenue, Ballston Spa followed by a Mass of Christian Burial at 10:00 am at St. Mary's Church, 167 Milton Avenue, Ballston Spa.
Committal service will follow at Ballston Spa Cemetery.
Calling hours will be Monday, July 31, 2017 from 6:00PM to 9:00PM at Mevec Funeral Home.
For directions or to light a candle visit us at www.mevecfuneralhome.com.